Christopher Dowie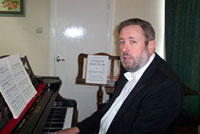 Christopher Dowie was born in 1944 in Sutton and was educated at Sutton Grammar School and Hertford College, Oxford, where he was Organ Scholar. He had previously studied the organ with Harold Darke at St. Michael's, Cornhill in the city of London, and Harmony and Counterpoint with William Cole. After Oxford he spent a year at the Institute of Education at London University, followed by posts as Head of Music at de Burgh School, Tadworth and at the Royal Russell School in Croydon.
From there he moved to Wimborne in 1977, where he was Organist and Master of the Choristers at the Minster until his retirement in October, 2005. No doubt many of you were present at the very moving 'Celebration' service held here on the 16th October. The exceptional attendance by clergy, musicians, singers and listeners alike, gave just recognition to the tremendous contribution that Chris has made to the musical life of the local community.
To our great delight, Chris continues to direct the Wimborne Choral Society, which he formed in 1978, and the Wessex Singers. He is also accompanist and Assistant Chorus Master for the Bournemouth Symphony Chorus, and he plays regularly with the Bournemouth Symphony Orchestra.
Chris is also the composer of a number orchestral and choral works, such as, A Song for St Cecilia. This vibrant work has been performed a number of times in the Minster, and was commissioned by the Wimborne Choral Society with funds made available from South West Arts. The work is primarily sung by the Chorus to a setting of John Dryden's "A Song for St. Cecilia's Day", whilst being intriguingly interspersed with a number of other poems describing aspects of music : these being A Cry to Music by John Masefield, Mirth and Music by Dorset's own William Barnes, When Soft Voices Die by Percy Bysshe Shelley, The Drum by John Scott of Amwell, The Music Breathed... by Muser (the pen-name of Alex Matthews, a Christian mystic) and the most intense of all, The Dark Angel by Lionel Johnson.
Music For Hire
Karl Jenkins; The Armed Man, A Mass for Peace - 100 Copies.